Ms. Carol Chua loves American foods, before her mother branch right now, she has a two little store branches that delivered foods for the call center. Whenever she has a friend to come by her house for a party, they really enjoyed her foods especially the ribs. Her friends pushed her to make a restaurant and Carol's Texan 5 was born.
Why Carol's Texan 5? Well, obviously, "Carol" is the name of the owner, "Texan" because she loves American foods so much and "5" because the restaurant has 5 main dishes namely: Dynamite Chicken, the Ultimate Texan Ribs, Tomato Basil Pasta, Cowboy Roast Beef, and the Fish Fillet.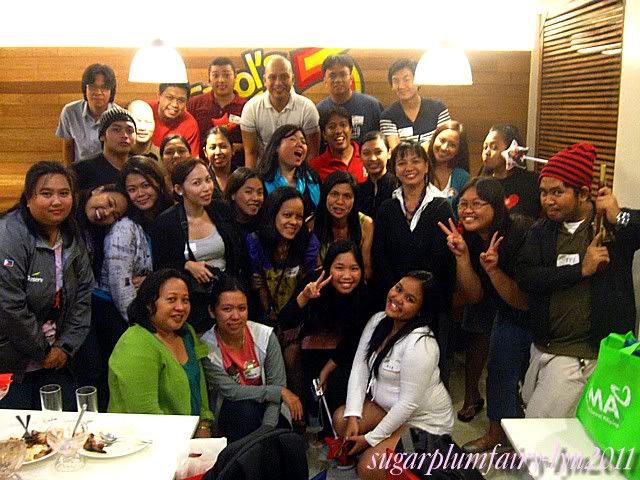 Last June 23, the first bloggers buffet event was held and my sister was one of chosen bloggers for the event. Upon seeing that bloggers can tag along people for the event (provided they pay p200 for the buffet), she happily tagged me along, something I was really thankful about. Being a newbie blogger, this posed a good opportunity for me to meet other bloggers, too.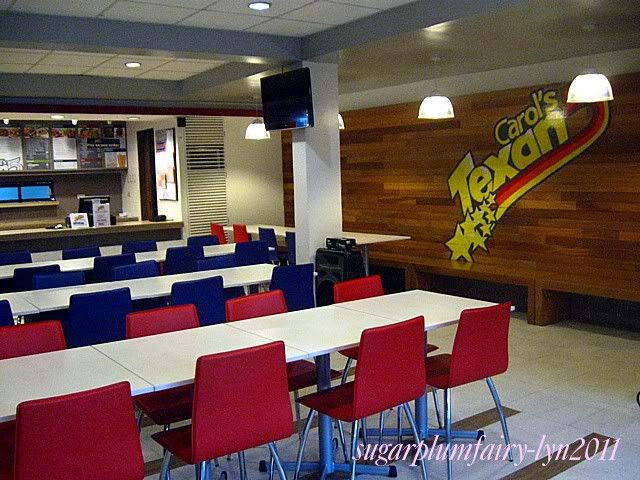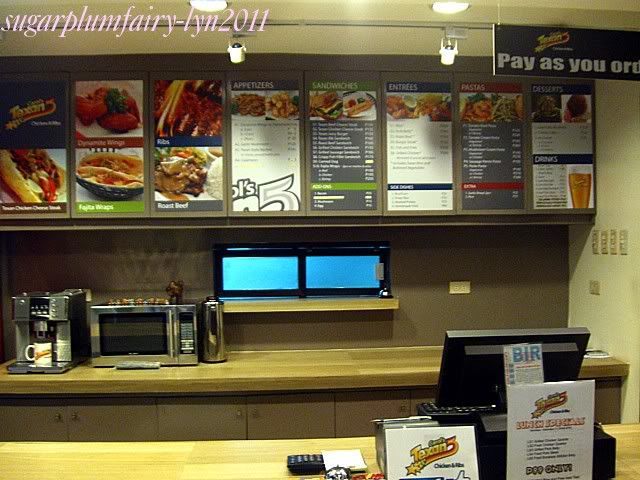 Anyway, it was a rainy day, and even if there wass a storm, we still went to the event. We knew there will be some prizes for the early birds, but we never realized we would get there so early! Well, since the restaurant was bare (for the meantime), we grabbed the chance to take as much pictures as we wanted. I loved the interiors so simply and homey.
They also have a "wanted" wall that guests can enjoy while waiting for food, and they included hats, guns and some accessories - making this wall truly Wild West-like.
For the buffet, we were served three of the five main dishes of the store: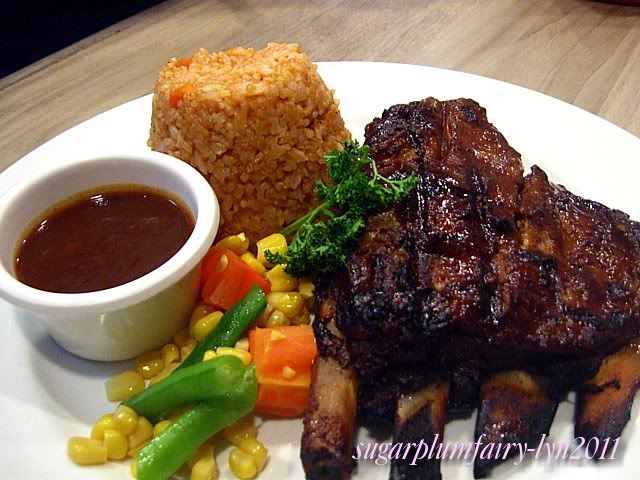 The Ultimate Texan Ribs.
Her friend was right, it was so delicious and perfect combination on the rice that mixed with red bell pepper and carrots. The ribs was so tender and tasty, put some sauce on it and was a two tumbs up=)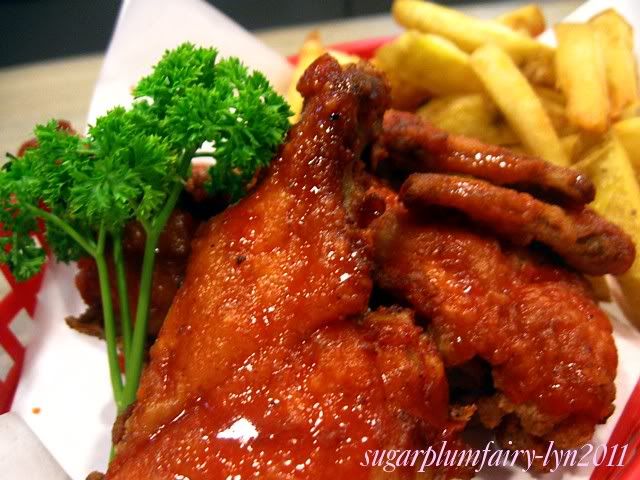 Dynamite Wings
When we saw this on the menu, "dynamite" made us think that was a super spicy food, but this dish wasn't really that spicy. This is my favorite meal that night, the wings was so juicy and I love to put a lot of sauce on it. I think it was mayo garlic, but not the typical mayo-garlic that we made at home. Even the kids will love this dish, and parents need not worry about its spiciness.
Tomato-Basil Pasta
I thought this would be sour because of the tomato, but it's not (though my sister said it was a bit sour - well, she isn't really fond of sour pasta). What made me love this pasta was the basil. I just love basil!
Magnolia Ice Cream
Initially, I was given the bowl with chocolate, but I decided to with the bowl with strawberry and vanilla because I don't like chocolate-laden foods that much. Soon, Carol's Texan 5 will offer this and other ice cream dishes for desserts.
I love this restaurant. They have affordable meals and I want to try more of their menu, maybe if I eat here I will want to try the two other main dishes and their burger - I was so curios what's in it. See you next time carol's Texan 5 =)
For more details about Carol's Texan 5 just check their website or you can find their Facebook page. If you're in the San Juan area, you may reach them at 727-3843/0922-485-0154 for deliveries.
Carol's Texan 5
2flr. 713 J. Abad Santos Street
Little Baguio, San Juan