I really love burgers and love to try new burgers here in manila. When
The Food Scout
had a raffle with the prize being 200 pesos GC for Boulevard Diner, I didn't hesitate to join (as
sister
and I have been trying our luck joining contests with GCs for Boulevard Diner as prizes), and lucky was I to be one of the winners for Jill's contest.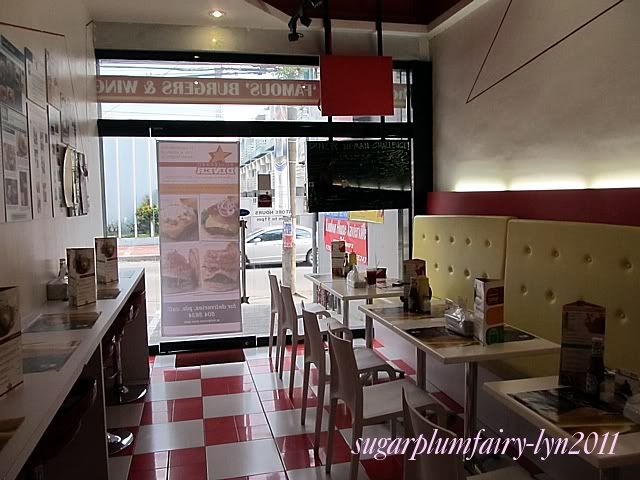 The GC will expire on 15 August, and despite several factors hindering me to do this food trip, I was able to use it on its last day. Entering the shop, I found it so simple, cozy, and has this '80s ambiance. Not only that, the had a friendly staff. When she gave the menu, I was so amazed to see the photographs of their burgers that I want to try it all. As what was written on the menu, all of their burgers are made in 1/3 pound beef patties and the price was ranges from 150 to 270 pesos, and for just an additional 45 pesos, the burgers will be upgraded to a full meal with Freedom Fries and a glass of Iced Tea.
I decided to go for their newest burger, which consisted of double bacon, Swiss brown mushroom cheeseburger with pan gravy. It was so new that the time I had it, it still has no name, and that the costumers had to guess or think what the name of the burger will be. Now that this burger is officially on the menu, it is now called, Luigi Meltdown. Why Luigi? I surely don't know, but seeing the lettuce, maybe it had something to do with Luigi, Mario's brother (Mario Bros.).

Anyway, their burger was huge for me that I needed to use a fork and a knife to eat it. I felt that I was eating steak that time because the patty was cooked medium done, and I was really able to savor the juiciness of the beef. The Freedom Fries was different to the other kinds I have eaten, theirs had longer cuts and slightly thicker, which was able to give me the potato goodness I wanted.


Aside from the burgers, Boulevard Diner also serves buffalo wings called "wingerangs" that have heat-o-meter ranges (Hickory, Lust, Fury, Love, Smoked, Death and Better than Hell) so it depends to the costumer how spicy their wings will be. Costumers also have their choice to make their own burger from the base, topping to the sauces and dressings, in case they didn't fancy any of the burgers on the menu.

Since I was alone for this food trip (sister didn't have enough money to go on a food trip that day), I really want to eat there again with my family. I'm pretty sure they will also love this place (especially my siblings who are "certified" meatatarians), and personally, I also want to try their Wingerangs because it is a big hit to their customers and that even kids love it.

If you're a burger and wings lover, go check out Boulevard Diner. It is located at 91 Xavierville Ave. Loyola Heights Quezon City,they just in front of Regina Bldg. Call them at 504-5634. The diner is open Mondays to Fridays at 11am to 11pm and Saturdays to Sundays 11am to 10pm.

How to get there?
From Cubao, take Aurora Blvd the turn left to Anonas street then turn right at Chico street then just straight ahead until to Xavierville Ave.
From Katipunan, turn right when you see McDonald's at Rosa Alvero St.), then turn left at the first corner (Esteban Abad st.). Go straight until Xavierville Ave. then turn right.