When one speaks of beef and Bulalo, only one place comes to mind: Batangas. Bulalo seemed to be Batangas' specialty that there are so many restaurants - even small-scale eateries in the province that serves this dish, and one's trip in Batangas is incomplete without eating Beef Bulalo. Now that it the weather's starting to get cooler, one's choice for rainy day comfort foods is Bulalo.
Last November 4, 2011 SM Hypermarket Batangas, set a new record for The Best Tasting and The Most Number of bowls to be served. There were 10 groups that participated in the event namely:
Le Elegancia, Ginazel Catering, Siemen's Canteen, Hot and Cold Cafe, El Torro, Joel Arceo, Madelyn dela Pena/Lutong Bahay, Tapa Kalderate Atbp., Karlos Place, Place of Mine Catering Restaurant.
Each team's Bulalo dish were judge by Chefs
Aries Cueto
and
JunJun Borlan Jr
. from Lyceum of the Philippines, Batangas and
Mr. Jun Lozada
, Assistant Manager of SM Hypermarket, Batangas. All of the participating teams needed to produce a Bulalo dish that is not only tasty and delicious, but creative as well. They also had to serve samples of their dish (not below 50 servings), with each bowl weighing at least 100 grams each - complete with meat, vegetables and broth.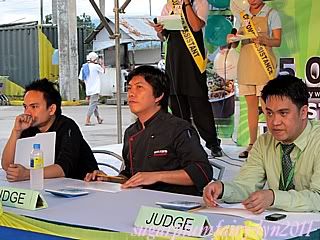 The typical Bulalo dish consisted of Beef Shanks (with marrow), green beans, bok choy and/or wombok, and corn. Some participants went with that, but others opted to go the creative way - by preparing Bulalo Kaldereta, Sizzling Bulalo, and Bulalo Pasta.




This is a cooking challenge, and each participants had 30 minutes to cook thier dish and plate it as presentable as possible. I got to sample some of the dishes, and I was really thankful I wasn't part of the judging panel as it was really difficult to judge which among the dishes was the best tasting. In the end Le Elegancia won The Best Tasting Dish and Madelyn dela Pena/Lutong Bahay won The Most Number of Bowls, having served 165 bowls. Both teams won 25,000 each. After declaring the winners, members of the audience got the chance to sample the dishes, and I personally agree with the results. Le Elegancia truly served the best dish - it was so comforting and heavenly.



I was super happy to be a part of this event. Having to taste authentic Bulalo and witness how talented Filipinos are and sharing this day with other bloggers really made this day a fun-filled and knowledge-filled and yes, tummy-filling day. This Cook-off is part of the SM Hypermarket Master Chef which began last July 2011. I know you still remember the marathon that made up weekly cooking demos for three months, and the kitchen makeovers that have 5 lucky winners redesigned by PSID graduates and SM Hypermarket.
Jesz