I still remember my first visit at Mcdonald's, I was 7 years old then and wanted to own even just one 101 Dalmatians Happy Meal. I really bugged my dad to eat there just so I could have a toy. Cheese Burger was my first meal at the Mcdonald's, and as time passed, I would try different McDonald's food. When I was in college, there was a time that I ate breakfast, lunch and dinner at McDonald's! Needless to say, I really love the food here, and in my four years in college, I would often drop by a McDo branch to order the double cheeseburger with large fries and drink before I travel home.
This year, McDonald's is celebrating its 30th year of providing good fast food to the Filipino. We weren't able to check out the celebrations happening two weeks ago, but last week, my sister and I visited one of the newly renovated Mcdonald's store here in Quezon City - the McDonald's Commonwealth branch, just outside Ever Commonwealth. Interestingly, this was also the same store where I had my very first McDo meal.
I really loved the ambiance of the new store, the place was so bright and spacious, the new uniforms of the staff looked so neat. What I really loved the most was how they presented the menu - giving customers a choice whether they like their meals to be in L or XL sizes (kinda like a shirt, eh?), giving customers choices what to eat depending on their budget. From the counter, I was also able to take a peek at their kitchen and how the staff prepare the food. Seeing the neat and orderly kitchen gave me an assurance that my meal was prepared in a hygienic way.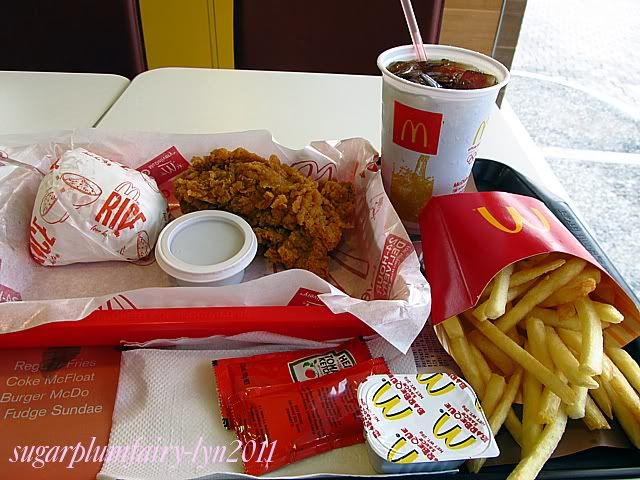 It's been past lunch and we haven't eaten our lunch yet so we decided to stop at Mcdonald's for a while before going home. I ordered my current favorite- the Chicken McDO meal with Medium Fries and additional barbeque sauce for my fries (I already lost interest interest with the ketchup since I tried dipping my fries in their barbeque sauce when I once ordered their chicken nuggets).
I really love the crispiness and the saltiness of the chicken and the meat was really juicy. Today seemed to be a lucky day for me, I got my favorite chicken part! I am thankful local fast food now offers unlimited gravy, and since I am a gravy person, I just drowned my chicken in gravy!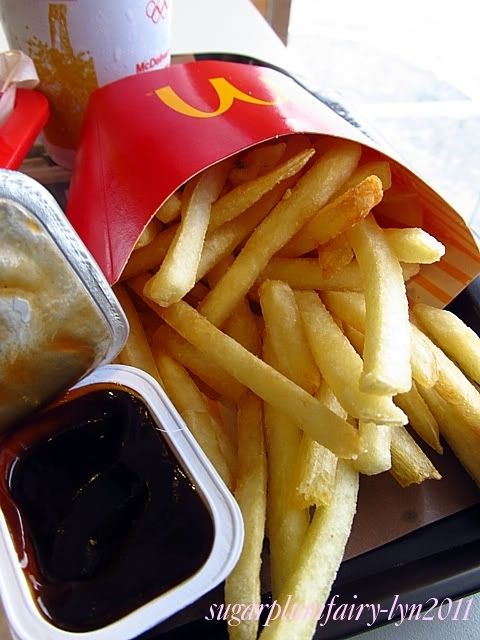 French Fries of Mcdonalds is one of my comfort foods, my fast food meal is not complete without these. Since I discovered that fries go well with their McChicken Nuggets barbeque sauce, I don't think I will go back with the fries and ketchup thingy, but of course I would gladly accept the ketchup sachets given at the counter for me to take home. Of course, we do cook fries at home, too, and since we don't have the barbeque sauce at home, I can use the sachets of ketchup, since we use banana ketchup at home. Why do I love the barbeque sauce? Well, the fries are salty and the sauce has this sweet/sour taste. Perfect combination! Now I am starting to wonder where they get the sauce... I should order a gallon! Hahaha.
Well, no need to put what my sister ate that day - she's currently on her "journey to become slenderella," and she went for Chicken McSavers meal, and it looked funny as her chicken piece was so small compared to my chicken. For 50 pesos, sister said it was worth it.
It's been awhile since sister and I went to a fast food to eat. Come to think of it, she couldn't recall the last time she ate at McDonald's and she found it nice to catch up with the flavors of their food. We do eat together everyday at home, but it was just so different eating outside - savoring food, having a girly talk, and sometimes we would watch people, too.
Eating my favorite McDonald's meal and being with my sister... it sure was a fine day.
Jesz