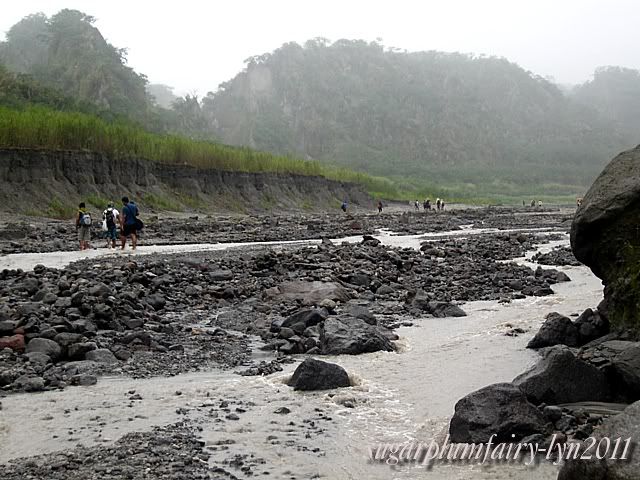 If typhoon Ondoy didn't ruin the sky way nearly two years ago, this would have been an easy trek. However, because of such unfortunate event, we needed to use the old trekking way would take us 3 hours before we could reach the crater. As if the thought of trekking wasn't enough, it also rained right before we started. It wasn't really heavy, but since my sister and I didn't bring umbrella, it became difficult for us to handle it. At that point, our tour guide said that we needed to hurry because of the water's current.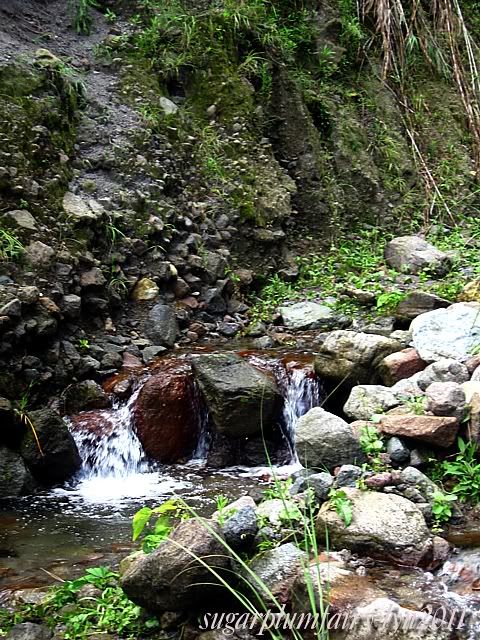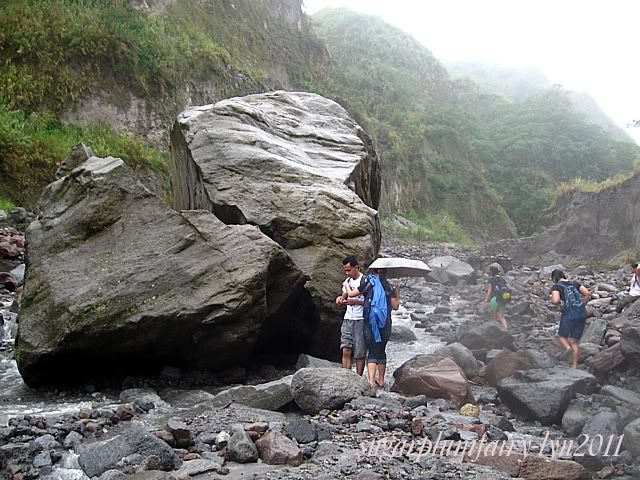 Even though it was raining and I felt tired already, I still enjoyed trekking because of the different rock and land formations right before my eyes. However, part of me was worried because we (companions at the 4x4 ride) left sister behind. At my end, I knew I just have to keep walking because if I stop, it would make me feel more tired. Sister didn't at all mind that I had to leave her - she knew the trek would be a big challenge for her, so even with a heavy heart, I still went on walking.
After an hour and a half, the sun peeped through, and it got me more excited when the tour guide said we were almost there. Somewhere along the path, there was a rest area where we caught some breath, ate snacks and waited for other companions - including my sister. At one point, the guide received a message from the guide assisting sister and said that my sister had a leg cramp. It got me more worried, so I told my other companions to go on ahead and I will wait for my sister. It took a lot of time for my sister to reach the rest area, and when I saw her, I just clapped in happiness because she was able to pull it through.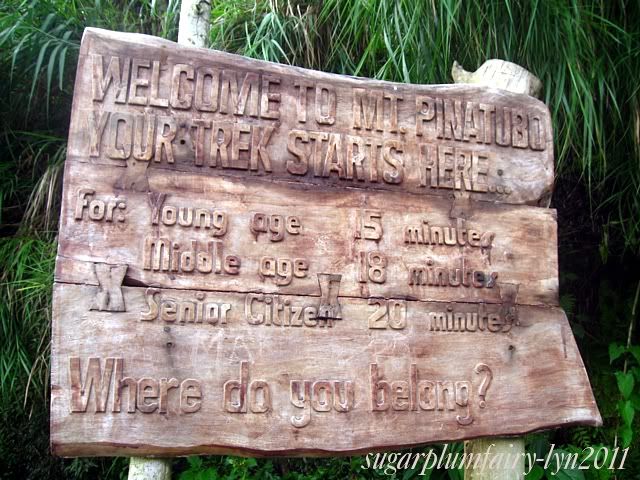 The guide said the crater is still a few minutes away. When we saw this signage, we all laughed at the line, "Your trek STARTS here." Say what?!? So... what we did for the past two hours wasn't trekking? Actually, the signage wasn't at all wrong, because the guide said that if the Sky Way was open, the 4x4 ride would take us to this stop, therefore our trek would start here. The signage posed a challenge to us - giving specific time frame until we reached the crater. Now being in the "middle age," I thought I could reach the crater in 20 minutes, but it took me 30 minutes because at this point, it was already a subtle uphill climb, and because I was already tired, it was quite difficult for me to exert more effort.
Of course, once we reached the crater, it was pure paradise.
Jesz