Papa John's Pizza
Unit 107-108 Annex 2, Ground Floor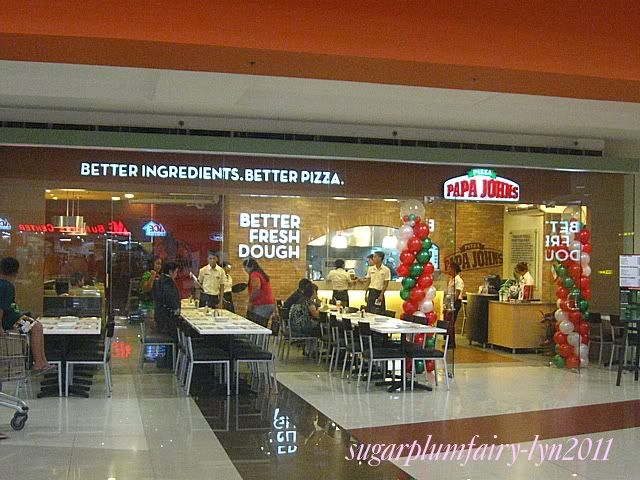 Last September 13, our family celebrated the 62
nd
birthday of my mom. We celebrated it at the newly opened pizza house in SM Fairview which is Papa John Pizza. Finally the long wait is over to taste their pizza. Many people said that they have a good pizza. I'm a Pizza Pasta lover and this is one of my long lists that I want to taste.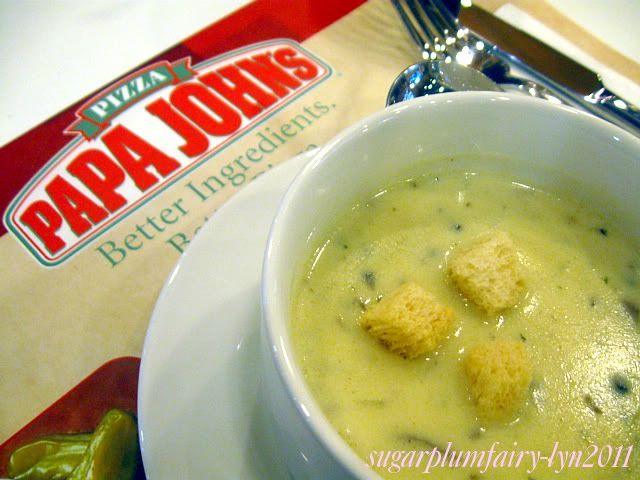 My mom always want a soup when we go dine out, so we ordered their two soups, the
cream of chicken and corn
(above) and the
cream of mushroom
(below), which the family shared. Both soups are tasty but I love the cream of mushrooms, for me it's already a full meal because of the croutons and bits of mushrooms.
My sister ordered
Garden Fresh Salad with Honey Mustard Dressing
. My sister said that it's a little bit sour because of the mustard (this wasn't her first choice for salad dressing, but they ran out of Italian Vinaigrette), but she finished it so I think she loves it.

We want to order all of their pizza but instead of ordering one big pizza, we decided to go for 2 smaller size of pizza ( the 9" pizza) with different flavors. We try the Super PAPA Classic Pizza and the Grilled Chicken Deluxe Specialty Pizza.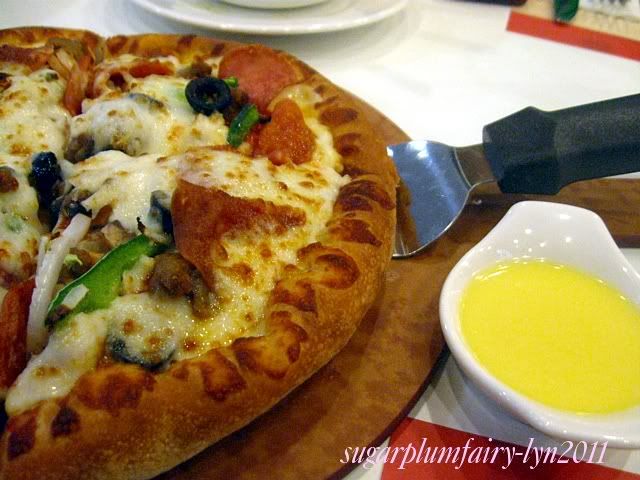 Super Papa
is a combination of Pepperoni, Italian Sausage, Ham, Mushroom, Green Peppers and Black Olives. Toppings were typical for a pizza, but I did find this one really tasty, the crust was so soft and I loved dipping it in their garlic butter sauce.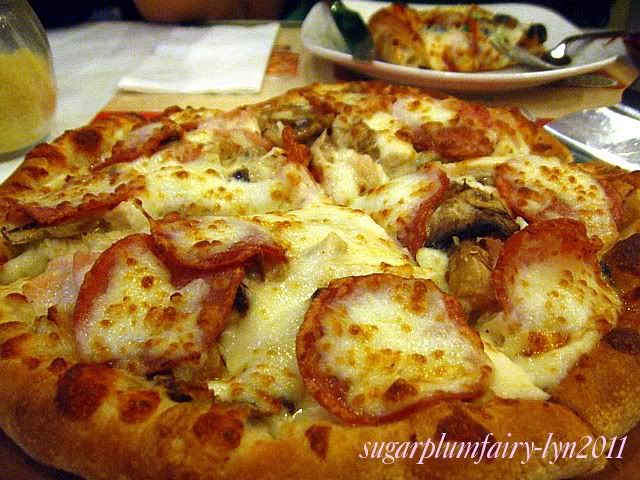 Grilled Chicken Deluxe Specialty Pizza
had Grilled Chicken (of course) as well as ham, bacon, and mushroom in Carbonara Sauce. This was my favorite that night, I felt the taste of all flavors and even my mom loved this too. Good thing mom pushed with this flavor... when we were deciding which two flavors to try, my sister was suggesting their seafood pizza, but mom really wanted this. I guess moms do know best. :) Maybe we can try the seafood pizza next time.
Their pizzas come in three sizes. Their 9" pizzas were normally sliced into six parts, but since we were only four, sister suggested our pizza to be cut in 4, so we could have equal portions. Her salad already made her full, so she only got to eat one pizza slice, the other one she took home and ate it the next day.
I will really be going back to this place, all our food serves hot and that was the most important to me because you feel the freshness of the food, and their pizzas are not oily. I love the ambiance and their server was friendly and I felt that they were happy to assist us.
Jesz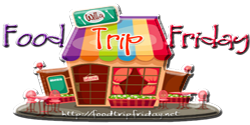 *photos on this post credited to
http://www.agent112778.com/
. Thanks brother!