It was really fortunate that we were able to see an update on Pizza Hut Philippines' Facebook page asking bloggers to leave their URLs for an upcoming meet and greet with Ms. Shamcey Supsup, the newest endorser for Pizza Hut. When my sister and I received the formal invitation, we were very happy that both of us will get to be a part of the event.
We arrived at the Pizza Hut Bistro in Glorietta 4 earlier than the call time. Living far away, anticipating the traffic do have its perks, because being first to arrive gave us more reasons to enjoy Pizza Hut's food more in the future, as we were rewarded some GCs. Lesson? Do arrive early. :)
This meet and greet is for Pizza Hut's newest product - the Tuscani pizza. Pizza Hut may be known for their Pan Pizza, but because the Filipinos' preferences for food constantly evolves, they decided to create a pizza that is neither too thin nor too thick - just enough for people to enjoy both the crust and the toppings.
Ms. Shamcey Supsup went around the area to serve our pizza slices. Amazing, eh? Along with the Supremo Tuscani pizza, we were also served this for dinner:
Pasta Carbonara and another slice of the Tuscani pizza (All Meat). If my sister weren't able to finish her food (because she's currently on a weight loss journey), I could say that I was able to actually all my food. All were so delicious!
As for the Tuscani pizza, I appreciated that the crust weren't like crackers. One downside of thin crust pizza is that the crust gets too crunchy. The Tuscani, although the outer crust is quite firm, it was still chewy on the inside, so the whole pizza eating experience was actually more fun.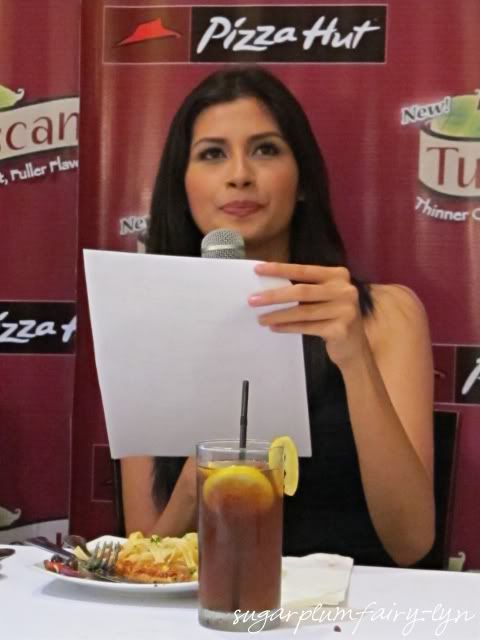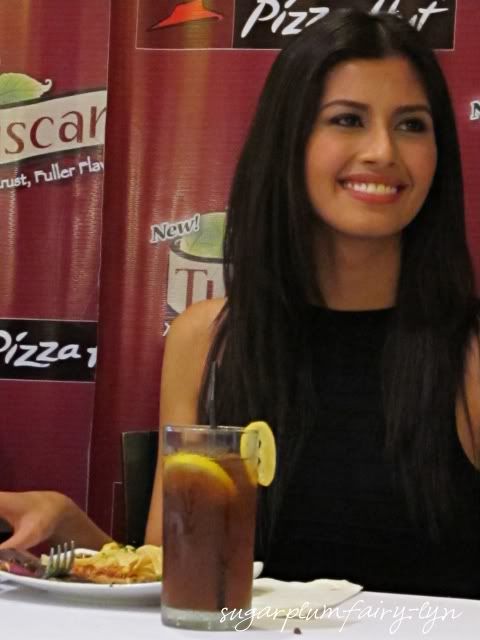 While all of us were enjoying our food, there was a Q&A portion, and Ms. Shamcey Supsup answered questions about the Tuscani pizza, and some questions about Ms. Universe and her plans for the future. Bloggers also took part of the Q&A, and two bloggers with the best answers were given some GCs.
Fancy a giveaway? Well, if you have a Facebook and / or a Tumblr account, you stand a chance to win awesome goodness from Pizza Hut.
For
Facebook
users, all you have to do is take a picture of yourself enjoying the Tuscani pizza. It can be a very simple picture, or something wacky like what I did here... let your imagination lead you. Then, check out the
Pizza Hut Philippines' Facebook Page
and click the "Like" button, and upload your picture using the "Flavor Your Life" app. They just picked the first winner, but this will run until December 8, so you still have more time to upload your picture.
For
Tumblr
users, here's what you have to do: The Pizza Hut Tuscani comes in different flavors and each flavor has its own corresponding prize: Supremo (iPad2), All Meat (iPhone 4), Roast Beef (DSLR Camera), 3 Cheese Bacon & Spinach (Trip for 2 to Boracay), and BBQ Chicken (20,000 worth of GCs from Araneta Center).
First up, choose what you want to win. If you're already certain about this, next thing to do is to blog about it, centering on the topic: What would make winning this prize add "Flavor to Your Life." The post has to have 500 words (or more), and must be accompanied with a picture and / or a video that features the Tuscani flavor of your choice (if you chose the iPad 2, your picture should have a picture / video of the Supremo Tuscani).
Go to http://pizzahutflavoryourlife.tumblr.com/ and submit your entry (there is a "Submit" button at the given address), making sure you follow all the prompts in submitting your entry.
Ask your friends to "Like" your post, because the number of likes counts to the 10% of the overall criteria. Of course, you also have to take into consideration the creativity, grammar, and use of media.
There will be one winner for each of the prizes. Tumblr bloggers can make as much posts as they can, but the blogger can only win once. Deadline of submission will be on December 8, so do write those posts as early as possible so you can get more likes.
For more details about these promos, check out Pizza Hut Philippines'
Facebook Page
and
Tumblr Page
. I am contemplating of joining the Facebook promo... so good luck to all of us who will join.
Big thanks to my sister Jenn of
Tara, Let's Eat!
for providing the pictures for this post.
Jesz